Nagasaki has different characteristics in different regions.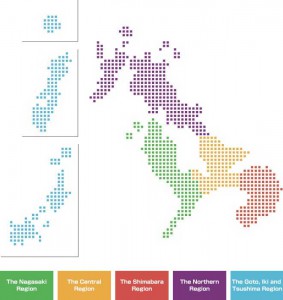 It has everything for everybody!
Nagasaki Prefecture, which has the grea number of islands in Japan, stretches in four directions. The prefecture can be divided into five regions: the Nagasaki Region, the Central Region, the Shimabara Region, the Northern Region and the Goto, Iki and Tsushima Region. Each one of the five regions has athletic facilities and tourist attractions. Choose the best region to meet your needs.
Enjoy both playing sports and sightseeing.
The Nagasaki Region

This region has two major sightseeing spots in Nagasaki Prefecture.
Dejima: It was the only gateway open to the world during Japan's age of isolation.
It was a site of industrial revolution in the Meiji era and designated as a UNESCO World Heritage in 2015.
Nagasaki Peace Park: It has the Atomic Bomb Museum and the Peace Statue where people learn history and pray for world peace.
Enjoy sightseeing as well as playing sports at a wide variety of athletic facilities in the Nagasaki Region.
[Main Athletic Facilities] ●Nagasaki Municipal General Recreation Park: main athletic stadium, auxiliary athletic stadium, baseball stadium, tennis courts and multi-purpose field
●Nagasaki Municipal Rugby-Soccer Stadium
●Nagasaki Prefectural General Gymnasium, "Arena Kabutogani": main arena, auxiliary arena, martial arts halls, exercise and training room
●Nagasaki Prefecture Koebaru Shooting Range: rifle range
●Nagasaki Prefectural Baseball Stadium, "Big N Stadium"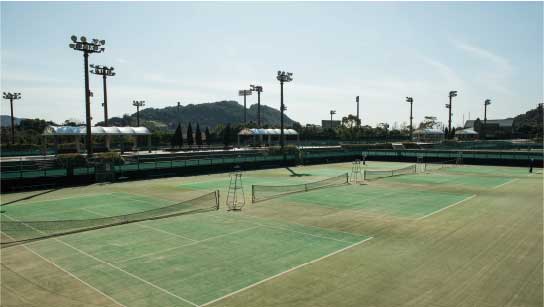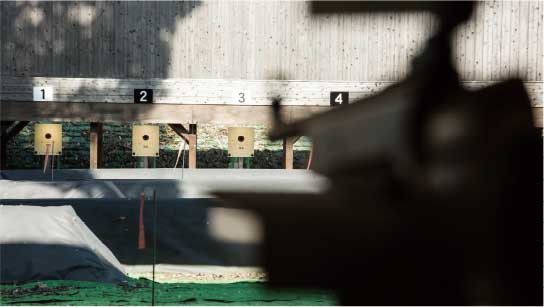 Easy Access from Nagasaki Airport.
The Central Region

Nagasaki Airport, an aviation gateway for Nagasaki, is located in this region, which makes travels here from all over the country fast, easy and comfortable.
The Central Region features two large-scaled facilities, the Nagasaki Prefectural Sports Park Athletics Stadium and Sea Hat Omura. The former was the main venue for the National Sports Festival of Japan held in 2014, "Nagasaki Ganbaranba Kokutai", and now is the home stadium of Japan Professional Football League, V Varen Nagasaki. The latter is where the 24th FIBA ASIA (Basketball) Championship for Women was held.
[Main Athletic Facilities] ●Nagasaki Prefectural Sports Park Athletics Stadium: athletic stadium, athletic field, soccer field, baseball field, tennis courts, multi-purpose field
●Omura City Physical Education and Culture Center, "Sea Hat Omura": main arena, auxiliary arena, exercise and training room
●Isahaya City Central Gymnasium, "Uchimura Memorial Arena": main arena, auxiliary arena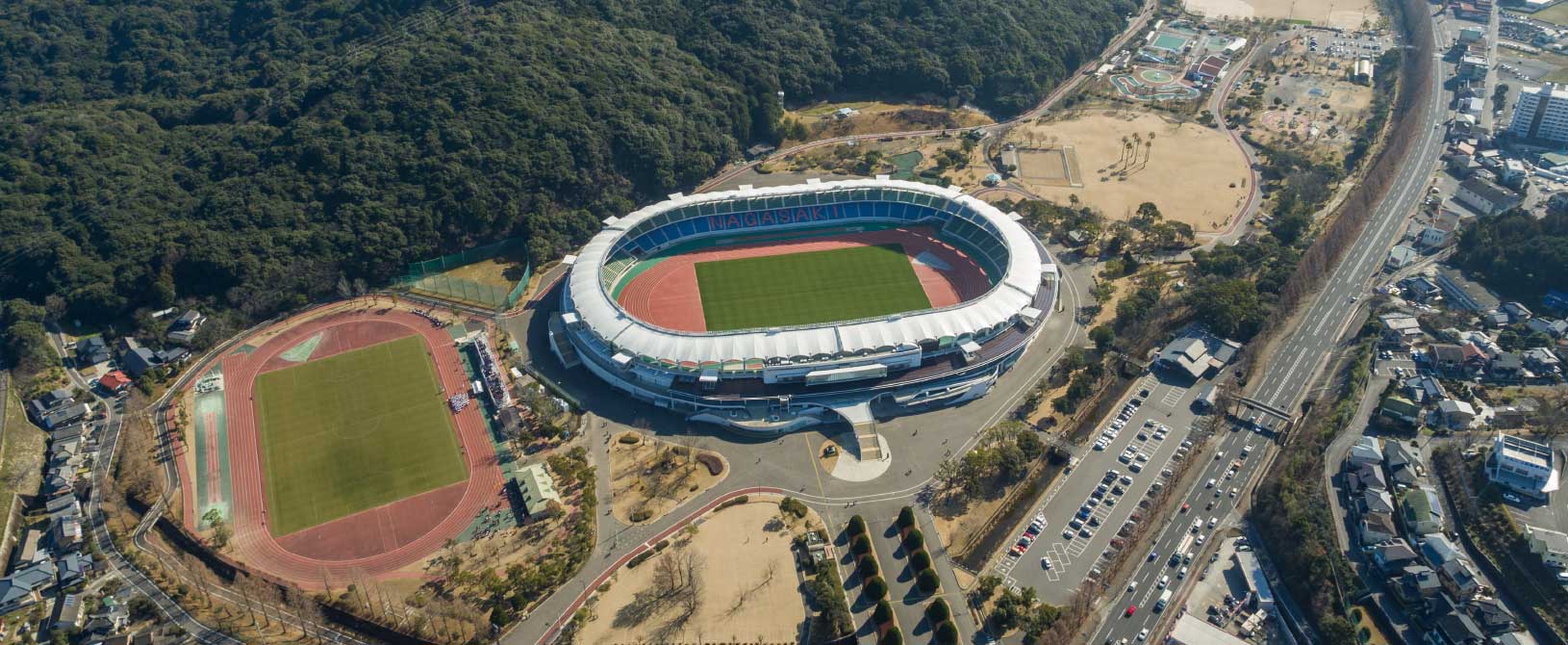 Be reenergized by hot springs after enjoying sports.
The Shimabara Region

This region features the first national park in Japan, Unzen-Amakusa National Park. It also features three popular hot spring resorts, Unzen, Obama and Shimabara.
Relax and feel reenergized in natural hot springs after enjoying sports surrounded by beautiful nature.
[Main Athletic Facilities] ●Shimabara Municipal Heiseimachi Multi-purpose Field
●Nagasaki Prefecture Football Center
●Shimabara Restoration Arena: main arena, auxiliary arena
●Unzen City Kunimi Athletic Park, "Yuugakunosato-kunimi": grass-covered multi-purpose field, sports ground, tennis courts
●Minami-Shimabara City Marin Park Arie: seaside park
●Minami-Shimabara City Arie Athletic Park: multi-purpose ground, tennis courts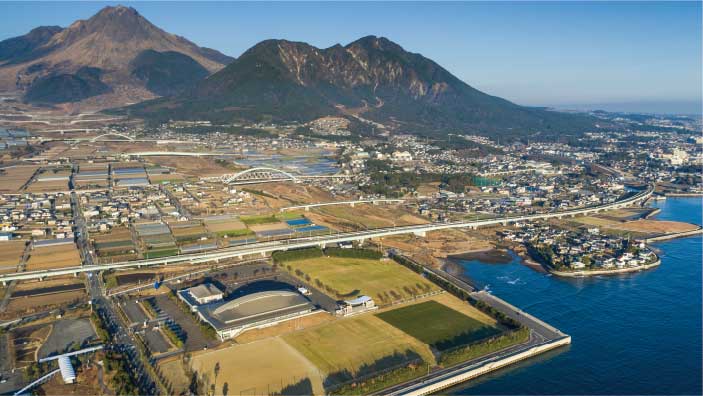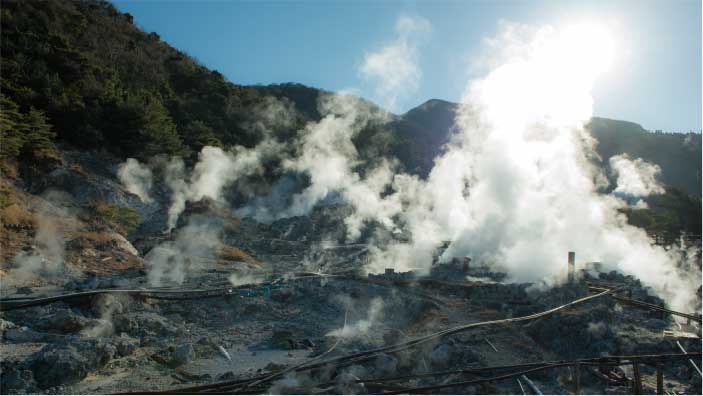 Feel the sea breeze from the deeply jagged cost lines.
The Northern Region

Sasebo, a city that played an important role in Japan's modernization, Huis Ten Bosch, a kingdom of flowers, lights and music and Kujukushima (99 Islands) National Park, which literally has "a lot of" islands, are in this region. The unique topography created by crustal movement offers the one and only landscape and culture.
[Main Athletic Facilities] ●Kawatana Osaki Nature Park: hockey fields (authorized by Japan Hockey Association)
●Nagasaki Prefectural Hall of Martial Arts
●Sasebo City Multi-purpose Sports Ground: athletic stadium, archery ground, baseball stadium, tennis courts, athletic field
●Sasebo City Physical Education and Culture Center
●Sasebo City Eastern Sports Plaza: gymnasiums, rugby & soccer field
●Saikai City Ohseto Sports Park: gymnasium(s), athletic stadium, sports ground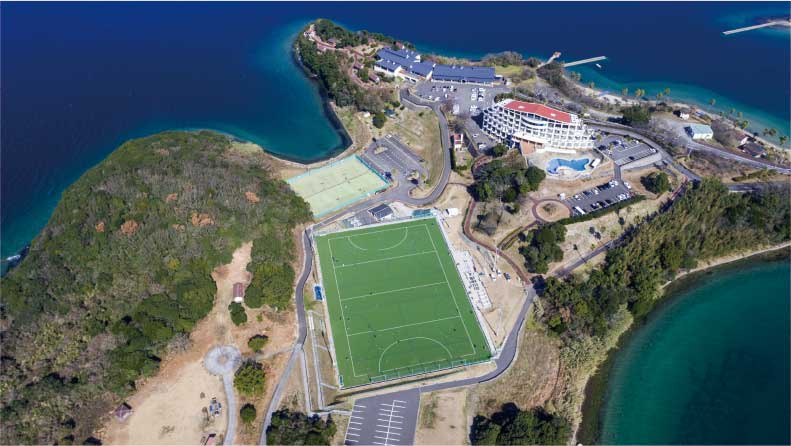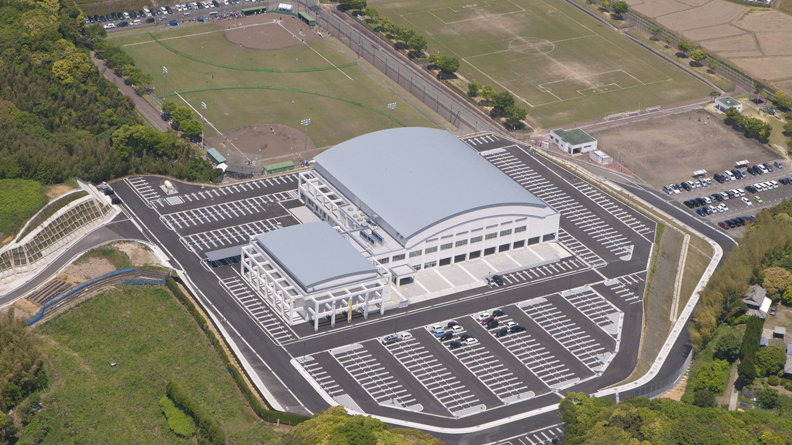 Stay focused on your training.
The Goto, Iki and Tsushima Region

Nagasaki Prefecture boasts the grea number of isolated islands in Japan, a couple of which offer the ideal atmosphere for your training, minimizing distractions to stay focused.
This region has safer public roads for marathons, road bicycle racing and triathlons.
[Main Athletic Facilities] ●Goto City Central Park: Civic Gymnasium (main arena, auxiliary arena), athletic field, multi-purpose field, baseball field, tennis courts
●Iki City Tsutsukihama Community Plaza: gymnasium(s), tennis courts, grass-covered multi-purpose field
●Tsushima City Shine Dome Mine: gymnasium(s)